BEEing smarter about border security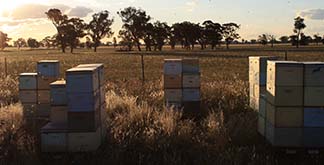 Sneaking into Australia through northern ports just got harder for exotic bees and pests, with the installation of a network of 20 hives monitored by mobile phone cameras and sensors.
The hives have been deployed as part of a national trial by the National Bee Pest Surveillance Program (NBPSP) in Brisbane, Gladstone, Weipa and Darwin to help protect our borders from pests like the Varroa mite, which has devastated honey bee populations in other countries.
NBPSP Facilitator Sam Malfroy, from Plant Health Australia (PHA), said the program was using simple technology that was not only effective, but saved time and money.
"Each of the empty hives has a solar powered smart phone inside the hive which captures images several times a day, analyses them using a specially designed app, and then uploads them to the NBPSP website," Mr Malfroy said.
"If bees are detected in the hive, a notification is sent to experts so the images can be analysed.
"If honey bees are present, PHA can remotely close the entrance door to the hive to trap the bees using any computer or mobile device.
"The bees can then be tested for exotic pests and diseases, such as the deadly Varroa mite."
Mr Malfroy says there are a number of advantages to the remote surveillance set up, particularly as it reduces the cost and time required for inspectors to regularly travel to check hive sites.
"Since the hives can be monitored from a distance, we can put them in high risk remote areas where it wouldn't normally be feasible to check on them regularly, or in high traffic port areas where repeated access is difficult.
"Another advantage is the central administration, so a large number of hives can be overseen by a single person from one place," Mr Malfroy said.
It is hoped this trial will effectively demonstrate that the system can function in a range of environmental and port environments, with the view to rolling it out across all Australian ports, subject to available funding.
The National Bee Pest Surveillance Program is jointly funded by horticultural industries, the honey bee industry (through the Rural Industries Research and Development Corporation) and the Australian Government, and is managed nationally by PHA.
For details on the program visit nbpsp.planthealthaustralia.com.au