Beekeepers to bolster productivity with new training videos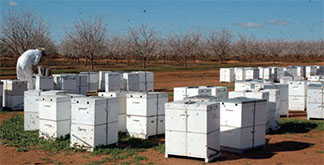 With hundreds of beekeepers starting out in the industry each year, training is vital to ensure they learn and follow best practice when it comes to the basic skills.
A series of new videos is now available online and will be provided to Registered Training Organisations offering relevant courses, with all of Australia's estimated 12,400 registered beekeepers encouraged to pursue these educational opportunities.
The videos have been funded by the Honey Bee and Pollination Program, a partnership between the AgriFutures Australia, Horticulture Innovation Australia Limited and the Australian Government.
They cover:
the construction and repair of beehives
selecting and establishing apiary sites
providing pollination services
re-queening a honey bee colony
artificial insemination.
Beekeeper and spokesman for the Program, James Kershaw, says education is important for the long-term future of the industry.
"To maintain our honey production and provide effective pollination services, we need every beekeeper to continually add to their skills, improving the way they manage their hives and deal with pests and diseases," Mr Kershaw said.
"Unless we are operating at best practice to manage the issues we're already facing, an exotic pest or disease incursion will have a greater impact on beekeepers' costs, their productivity and their ability to move hives around Australia.
"These videos very clearly and simply explain a specific set of skills, and why those skills are necessary for beekeepers, as well as the tools required and how to use them."
The videos have been produced to align with the accredited Certificate AHC 32010 in beekeeping and Certificate AHC 10 in Agriculture. They are available on the Agrifutures Australia YouTube channel.