Beekeepers urged to adopt Biosecurity Code of Practice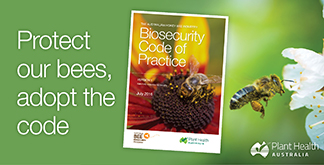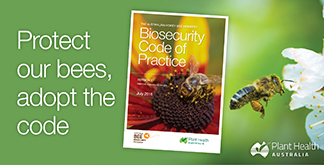 Beekeepers nationally, commercial and hobby, are being urged to adopt the Australian Honey Bee Industry Biosecurity Code of Practice to keep their bees healthy and to safeguard honey bee and pollination dependent industries.
Honey production is worth more than $100 million annually, along with sales of beeswax, queen and packaged bees. This is dwarfed by the benefits of bee pollination services.
"The aim of the National Bee Biosecurity Program and the associated Biosecurity Code of Practice is to ensure beekeepers have the awareness and knowledge to manage bee pests and diseases, and to detect exotic ones early," said Australian Honey Bee Industry Council (AHBIC) Chair Peter McDonald.
"Established pests and diseases like American foulbrood, small hive beetle and chalkbrood are causing significant economic and social harm to the bee industry and this would be exacerbated by an incursion of an exotic pest like the varroa mite," he said.
AHBIC worked with state governments, the Australian Government and Plant Health Australia to develop the National Bee Biosecurity Program and the Biosecurity Code of Practice. The honey bee industry contributes $400,000 per year to the program through levies.
In some states, legislation has been changed to assist with adoption of the Biosecurity Code of Practice, and bee biosecurity officers and apiary officers are found in each state to assist beekeepers.
"This new management system has been put in place to limit the impact of pests and diseases on the businesses of individual beekeepers, but also the broader industry and economy," said Plant Health Australia (PHA) Executive Director and CEO Greg Fraser.
The Australian Honey Bee Industry Biosecurity Code of Practice requires the nation's 1500 commercial beekeepers, who have more than 50 hives each, and the 22,000 hobby beekeepers to use these best-practice biosecurity measures:
register as a beekeeper
regularly inspect hives for significant pests and diseases
report notifiable diseases
control or eradicate pests and diseases, and manage weak hives
maintain records of biosecurity related actions and observations
appropriately construct and brand (label) hives
protect hives from neglect or exposure
allow their operation to be assessed by bee biosecurity officers.
Commercial beekeepers with more than 50 hives also need to:
demonstrate adequate knowledge to identify and manage bee pests and diseases
undergo annual honey testing for American foulbrood disease
provide a declaration that they operate and manage their bee hives in compliance with the Biosecurity Code of Practice.
In coming months around 200,000 beehives will be transported to and from almond growing regions in southern Australia for pollination, making effective biosecurity of bee hives more important than ever.
---
Acknowledgement: reproduced from a media release by Plant Health Australia