Is it truly great to self-pollinate?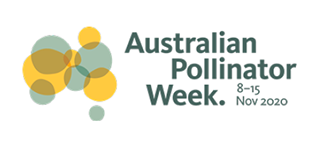 It's a serious question raised in a slightly naughty way in 'Pollination Week', the Australian Pollinator Week theme song released today.
"I couldn't help smiling as I began to contemplate it" said Fiona Chambers, CEO of the Wheen Bee Foundation, "and that's what makes this theme song so great; it does make you think about the process of pollination, in all its amazing forms."
Why pollination is important
Ninety percent of wild flowering plants depend on animal pollination, with a high diversity of wild pollinators being crucial to their pollination even when managed bees are present in high numbers (IPES, 2016).
Eucalypt trees and banksias, as well as many wildflowers such as paper daisies and bush-peas,have evolved unique relationships with insect pollinators. Without pollinators, many of these plants would not set seeds or reproduce, causing ecosystems to collapse.
Pollinators support food security
The buzz of bees and other insects is also essential to sustain food production. About one in every three bites of food that we eat needs a pollinator.
Honey bees, native bees, and other insects such as butterflies, moths, flies and beetles are all critical to food security. Without them, we wouldn't enjoy some of our favourite fruits, including almonds, apples, blueberries, and even zucchini, not to mention flowers grown for seed like parsley, coriander, carrots or canola.
Pollinators support the production of 87 of the leading food crops worldwide (FAO, 2018). Pollinators are responsible for about one third of our food energy intake and three quarters of food diversity, underpinning healthy, balanced diets and therefore our well being
What is Australian Pollinator Week?
Australian Pollinator Week is a designated week when community, business and organisations can come together to raise awareness of the importance of pollinators and support their needs.
"Community events are listed for free on the Australian Pollinator Week website" said Dr Megan Halcroft from Bees Business who founded Australian Pollinator Week in 2015.
"It is a simple way for people to connect, have fun and learn more about pollinators and pollination".
This year, Australian Pollinator Week features a number of live and online events that focus on pollinators on our farms, and in our natural environments, backyards and gardens.
Visit australianpollinatorweek.org.au to view, list or register for an event
Media Contacts: Wheen Bee Foundation, Naomi Swift info@wheenbeefoundation.org.au, 0436 423 429
---
Additional information
Events listing includes
Powerful Pollinators: A program that encourages the strategic planting of 'trees for bees' and other pollinators and provides Pollinator Planting Guides developed by experienced botanists and field ecologists for use by farm landholders and gardeners.
After the Fires: Conserving Australia's Green Carpenter Bee on Kangaroo Island. In a world-first, an Australian research team are working to save a large, iconic native bee species, the Green Carpenter bee, by providing artificial nesting substrates.
Global Online Waggle Dance Challenge: A fun activity for schools, families and community groups. Upload a video and help to reach 20,000 video uploads, representing the 20,000 different bee species that exist. The dance mimics the extraordinary way honey bees communicate and helps promote interest in the role bees play in pollinating our food.
Discover Bees: Over the next six years, this exciting campaign aims to discover and name Australia's remaining native bees. Around 1600 native bee species have so far been described, but it is estimated that more than 1,000 species still remain undiscovered, unnamed and undocumented.
Wild Pollinator Count: Just 10 minutes is all you need to contribute to wild pollinator insect conservation in Australia. A citizen science activity that helps build a national database on wild pollinator activity.
5 Bees: Building Better Beekeeping Businesses after Bushfires: A program assisting commercial beekeepers to recover from the effects of bushfire and drought. The program supports commercial beekeepers to use modern hive technologies and evaluate their merit for improving productivity.
Full details: australianpollinatorweek.org.au/explore
---
Acknowledgement: reproduced from a media release by the Wheen Bee Foundation