Regulation changes for honey bee industry align with best practice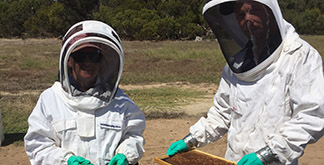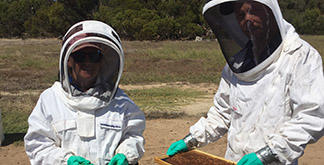 The South Australian honeybee industry is set to follow the latest in biosecurity best practice with changes to the Livestock Regulations 2013 to take effect this month (April).
The amendments which come into effect on Thursday 19 April align with the Australian Honey Bee Industry Biosecurity Code of Practice, which has been endorsed nationally and interstate.
Aimed at increasing productivity and improving pest and disease control, the changes to the regulations follow on from community and industry consultations in 2017 and include:
Beekeepers must record specified biosecurity related management practices that are undertaken.
Bees must be kept in approved hives, including being bee proof, with honeybee access only permitted via specifically designed entrances, whilst swarm catch boxes must only contain foundation, and if not located at the apiarists residence, be additionally branded with their name and telephone number.
Beekeepers must provide water suitable to sustain bees at a distance of not more than 200 m from any hive.
Beekeepers with 50 or more hives must successfully complete a course in bee pest and disease management approved by the Chief Inspector.
Beekeepers will be required to view and understand information on notifiable conditions of bees as part of the annual registration process.
To assist the industry in adjusting to the changes, a phase-in period will occur with PIRSA Biosecurity SA to hold a series of industry information sessions across the state in April and May at the following locations:
Loxton, 5 April, 6-8.30 pm, Loxton Research Centre, 1801 Bookpurnong Road
Kingscote, 26 April, 6-8.30 pm, Department of Environment and Water (DEW) Office, Dauncey Street, Kingscote
Struan, 30 April, 6-8.30 pm Struan House, via Riddoch Highway, Struan
Clare, 7 May, 6-8.30 pm, Department of Environment and Water (DEW) Office, 155 Main North Road, Clare'
The South Australian Apiarists Association (SAAA) will also host an information session on 17 May (venue to be confirmed). Please contact the SAAA to register interest on 0419 982 102 or secretary@saaa.org.au
Background
The honey bee industry nationally developed the Australian Honey Bee Industry Biosecurity Code of Practice, which was endorsed by the Australian Honey Bee Council in July 2016.
There were 2034 beekeepers registered with Biosecurity SA in 2016–17, an increase from 1100 in 2015–16. There was a total of 68,000 hives recorded in South Australia in 2016–17.
Honey production contributes about $11m to the South Australian economy, while the value of pollination services has been estimated at $550m.
Honeybee biosecurity comes within the scope of the Livestock Act 1997 and Livestock Regulations 2013 administered by Biosecurity SA.
Quotes attributable to PIRSA Biosecurity SA Bee Biosecurity Officer – Teagan Alexander
The honey industry is a vital part of our agricultural sector so we need to ensure the best possible management of bees which are vulnerable to so many diseases.
Good biosecurity is everyone's responsibility – from the hobby beekeeper with one hive to the major commercial apiarists.
South Australia is recognised internationally for our honey products. Only through strict biosecurity measures can we continue to protect such a precious industry and the livelihoods of hundreds of families.
These new changes to the livestock regulations will underpin improved practices and accountability which in turn will drive productivity so everyone benefits.
---
Acknowledgement: Reproduced from a news item by Primary Industries and Regions South Australia.