Wanted: Bee biosecurity officers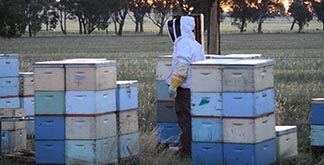 Healthier hives and better beekeepers will be the end result of the appointment of new extension staff across the country, tasked with improving the management of existing bee pests and diseases, and boosting surveillance for exotic pests such as Varroa mite.
The Bee Biosecurity Officers will be funded by around $400,000 of industry funds through an increase in the honey levy, and contributions from state governments, with the positions sitting within departments of primary industries.
The development of the National Bee Biosecurity Program and accompanying Biosecurity Code of Practice has been one of the priorities of the Honey Bee and Pollination R&D Program (HB&P Program) over recent years, and has been managed by Plant Health Australia (PHA).
Beekeeper and HB&P Program advisory panel member James Kershaw says the improved access to expert advice will be very welcome.
"The industry has recognised the economic impact of established pests and diseases such as American foulbrood, small hive beetle and nosema, and the need to increase training and education for beekeepers. The Biosecurity Program and Code build upon lessons from other countries such as NZ and the US, as they try to deal with honey bee pests," Mr Kershaw said.
"We need to be proactive in our efforts to properly control these pests, because they're reducing honey yields, damaging the health of bee colonies and greatly increasing management costs.
"Better trained and more aware beekeepers will not only improve the chances of them detecting possible exotic pests, which will significantly improve the chances of eradication, but will also mean they're better able to deal with anything that does arrive.
"This is critical because overseas experience suggests that better management and preparedness will help to reduce the impact of exotic pests on our business and our bees.
"The Bee Biosecurity Officers will be on the ground from 2016, and highlight the partnership between governments and industry to deliver effective and improved outcomes for beekeepers."
Honey is not all that's at risk from exotic pests and diseases – the value of pollination in Australia is estimated at $4-6 billion, with many crops dependent on pollination by honeybees for yield and quality.
Stay up-to-date with the latest news and information about beekeeping and pollination with the BeeAware e-newsletter. Go to beeaware.org.au/subscribe