Welcome Ally Driessen to the Agriculture Victoria bee team
Ally Driessen is a welcome addition to the Agriculture Victoria Bee Biosecurity team.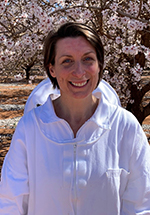 An amateur beekeeper and permaculture enthusiast, Ally has more than 10 years' experience as a coach, trainer and project manager in corporate Melbourne, where she worked closely with stakeholders to ensure that changes delivered met business and stakeholder needs.
"I love bringing people together and collaboratively working with them to ensure goals are achieved," Ally said.
Ally joined Agriculture Victoria in late 2018, after a twelve-month career sabbatical, where she spent her time focused on living sustainably: keeping chickens and bees, growing produce in her backyard and preserving it.
"It was 12 months of switching gears, focusing on family and making decisions that were good for the environment," Ally said.
In 2018 when the Varroa scare in Victoria occurred, Ally was inspired to make the change to a 'bee-change', in order to become part of the driving force helping to reduce the risks of exotic and established honey bee pests.
"Since joining the Apiary and Chemical team at Agriculture Victoria I have been inspired by the work the teams do to protect the honey bee industry and wanted the opportunity to be more involved by informing and communicating with bee keepers directly," Ally added.
Ally is driven to reduce the risks of exotic and established honey bee pests and with her energetic and engaging nature, skills in coaching, training, relationship building and public forum facilitating, we are pleased to welcome Ally to the Agriculture Victoria apiary team.
For more information on bee biosecurity visit the Agriculture Victoria website.
---
Acknowledgement: This article was supplied by Agriculture Victoria.
---
Bee Biosecurity Officers
Ally Driessen is one of the Bee Biosecurity Officers of the National Bee Biosecurity Program. More information about all the Bee Biosecurity Officers and how to contact them is available here.