Subscribe to newsletter
About the newsletter
The BeeAware newsletter is an e-newsletter for beekeepers and growers of pollinator-reliant crops, or anyone else simply interested in beekeeping or the pollination of crops. Each newsletter contains the latest in news, research and development, as well as upcoming events relating to honey bee biosecurity and the pollination of horticultural and agricultural crops.
View previous editions to get an idea about the information contained in BeeAware newsletters.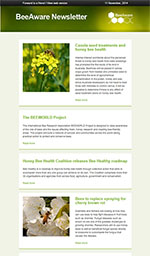 Subscribe
If you would like to subscribe to the BeeAware newsletter, please fill in the details below.
Although an email address is the only required field, we'd like to include information in the newsletter that's relevant to your interest in honey bees and pollination of crops, so please fill in any relevant fields below. Thanks
IMPORTANT: make sure you confirm your subscription by clicking on the link in your first email from us, otherwise you will not receive the BeeAware newsletter. (HINT: sometimes the message can get caught in spam filters, so if a message does not appear in your IN folder, please check your junk or spam folders.)