Identifying pests and diseases
Beekeepers
must

demonstrate a minimum level of knowledge of pest and disease identification and management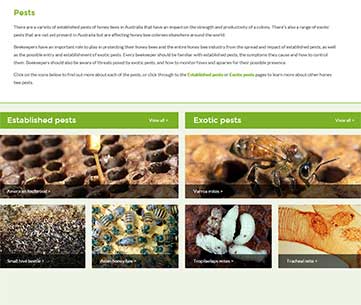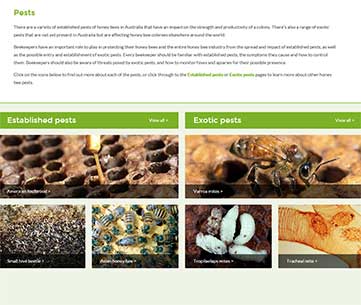 Inspecting for pests and diseases will not be helpful if beekeepers do not know how to identify them. However, many of the pests and diseases notifiable under the Code of Practice are not yet present in Australia and recognising them may not be easy.
Fortunately, there are many resources available to inform beekeepers about what to look for.
If you manage more than 50 hives, the Code requires that you take a formal assessment within 12 months of first registering or within three years of implementation of the Code if you are already registered.
More information about both established and exotic pests of bees and pest bees is available in the Pests section of this site.
REQUIREMENT
9.1 This requirement applies only to beekeepers who manage 50 or more hives.
9.2 Within 12 months of first registering or, if already registered, within 3 years from the implementation date of this Code, a beekeeper must successfully complete either:

(a) an approved pest and disease management course, or
(b) the Beekeeper Biosecurity Training and Assessment Program.

9.3 Subsequent to initial compliance with 9.2 above, a beekeeper must have completed one of the programs described in 9.2(a) or 9.2(b) above in the 3 years prior to any application for re-registration.
9.4 The beekeeper will be responsible for any costs associated with the training and assessment.
---
Biosecurity for Beekeepers course
An online training course has been developed to make it easy for beekeepers to find out how to care for honey bees in accordance with the new Australian Honey Bee Industry Biosecurity Code of Practice.
The Biosecurity for Beekeepers course explains why biosecurity is important, describes the main pest threats to bees and shows how to check hives for signs of pests and diseases. It's designed for people with a basic understanding of beekeeping practices, but all beekeepers should find it helpful.
More information about the course, enrolling and getting started
---
Download the Code
Australian Honey Bee Industry Biosecurity Code of Practice
The Code of Practice is also available in Greek, Arabic, Italian and Turkish